Alburnett Water Damage Restoration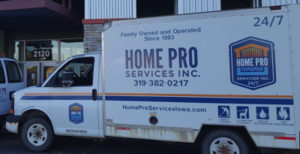 Home Pro Services, with over 35 years of experience, offers comprehensive storm and water damage services, including water removal and extraction, full restoration, and repairs. Our emergency response team is equipped to handle any situation, from broken or leaky pipes to sink and toilet overflows, appliance malfunctions, and basement water extraction. Our technicians are highly trained and certified in the latest home restoration techniques and technology, ensuring quick and efficient service to minimize stress after a disaster. Trust us to arrive quickly and get the job done right.
Why Choose Home Pro Services?
24/7 Emergency Service
Convenient Appointments
Experienced, I.I.C.R.C. Professionals
We Work With All Insurance Companies
Upfront Pricing with No Hidden Charges or Surprises
Complete Customer Satisfaction Guarantee
Hidden Water Damage and How to Prevent It
Water damage is not always easy to spot for homeowners, which is why it's important to have expert professionals like Alburnett inspect for any potential issues. Our team can guide you in identifying potential problems and alerting you to potential flooding in the area. To prevent water damage, it's important to regularly check for leaks in your pipes, under sinks, and in connections to appliances such as dishwashers and washing machines. Caulking around bathtubs and toilets should also be checked and any issues addressed immediately. One important precautionary measure is to place the main valve for your home's water connection in a easily accessible location, so that in case of a leak, you can quickly shut off the water inflow and minimize the damage. Be sure to also regularly check rooms that are more susceptible to water damage, such as basements and attics, even if they are not frequently used, as they are common locations for undetected leaks or seepage.
Alburnett Basement Water Damage Cleanup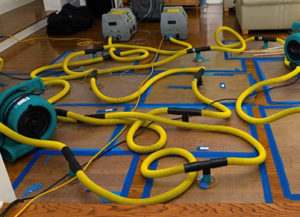 Flooded basements and crawl spaces can present unique challenges compared to other areas of the home. Not only do they make the space unusable, but they can also damage personal belongings and create health and safety hazards. Basements are particularly vulnerable to flooding, which can be caused by a variety of factors such as burst or frozen pipes, leaking waste lines, broken washing machine hoses, or malfunctioning water tanks or heaters. However, the most common cause is heavy rainfall or snow melt, poor yard drainage, and sewer backups. If you're in the Alburnett area and your basement is flooded, don't wait – call us for quick and professional basement water damage cleanup.
Broken, Burst, & Frozen Pipes
Winter can be the most devastating time of year for water damage. Water pipe bursts are common in areas of extreme winter cold and high winds that drive the wind chill well below freezing temperatures. You may not know if pipes are broken because the freezing water is keeping the liquid water from coming out. Once the ice thaws, you will be unexpectedly met with a flooded area if the water continues to flow without your knowledge. Pipes that lack proper insulation and are exposed to the winter's cold are far more likely to create a need for restoration. Ignoring these repairs can be extremely costly as flood damage can lead to an unstable structure and damage of your valuables. Broken pipes and leaky pipes can be the cause of gallons of water to come flooding through your living rooms, bedrooms, kitchen and bathroom. Should you need any help with a burst or frozen pipe or are dealing with water or flooding at all, give us a call today!
Home Pro Water Damage Restoration Process
Assess the Damage
We'll first check your home's structural integrity, making sure it is safe for habitation and repair.
Mitigate the Cause of the Damage
Whether its flood water, a sewer back up or faulty electrical wiring, the first order of business will be to correct the problem so no additional damage is done.
Determine the Scope of the Damage
We'll conduct a thorough inspection to determine the scope of the damage and what it will require to restore your home.
Free Estimate
We'll provide you with a complete breakdown of the work to be done and a free estimate and timeline to complete the work.
Complete Restoration Work
Our primary goal will be to repair the damage properly and get you back to your normal life as soon as possible.
Because we care about our friends and neighbors, we will be happy to work with you whether you have insurance or not. When you call Home Pro, you won't have to worry about taking out second mortgage or going without to get what you need. If you don't have insurance, we can adjust our rates to make sure you have a clean, safe home to return to without an inflated price tag. Don't let lack of insurance stop you from calling.
Sewage & Water Damage Restoration Company Alburnett IA
Home Pro Services will also handle your sewage backup cleanup. A problem with your sewer system can cause significant problems. In addition to the overbearing stench created, an array of other problems such as fungi, viruses and other pathogens can create serious health hazards. If sewage problems remain untreated, they can cause major structural damage which can be extraordinarily expensive to repair.
Sewage damage can contain high amounts of harmful bacteria and there are serious health risks associated with it. It's critical that you do not try to clean up a mess from broken pipes that are connected to a sewage line. Coming in contact with raw sewage can cause disease, can destroy your valuables and cause severe damage to your property. Only trained professionals with the right equipment should handle sewage removal. Our team of professionally certified experts have years of experience resolving various sewage cleanup and repair problems. When you need sewage damage cleanup, Home Pro has you covered.
Contact Us Today For All Your Flood Damage Needs
Our top priorities are safety, quality, and exceptional customer service. We are an emergency water damage company that provides water damage repair to victims throughout Alburnett. If you have flood damage of any kind, our professionally trained and certified experts can rapidly and effectively solve the problem on short notice. We not only fix the original problem, but we make sure that any affected area is professionally cleaned, deodorized and sanitized. Our courteous, professionally trained and certified experts are available to handle any crisis 24 hours a day. Regardless of the time of day, we are there to service your needs.
More About Alburnett IA
In 1887, the Illinois Central Railroad was built. In the winter of that year a depot was built on land donated by Albert Burnett. Because he had given land for the depot, the name "Burnett" was chosen for its identification.
Business interests began to center around the depot because the railroad offered an outlet to both the north and the south. Burnett and his wife soon began to plat a community. Meanwhile, landowner Michael Weislogel began to lay out lots a short distance to the south. This community, called "Trentham," was the site of the first general store and post office. However, because contemporary state law dictated that a depot and post office in the same community must carry the same name, the name was soon changed to "Burnett."
Today, Alburnett is home to places such as the Martin Sports Complex.
Providing Water cleanup services throughout Alburnett IA, including 52202.