We are a family owned and BBB A+ rated water damage restoration company in Cedar Rapids IA with more than 35 years of experience. We are available 24 hours a day, 7 days a week, and are at your door in an hour or less.
We specialize in residential and commercial water damage cleanup and repairs. We understand the stress and frustration you are experiencing from unexpected damage in your home or business. We are here to help you with your Cedar Rapids water removal and get back to normal as quickly as possible.
Home Pro Services will handle all of your storm damage and water cleanup services throughout Cedar Rapids and the surrounding area. From water removal and extraction to complete restoration and repairs, our water damage restoration company near you is ready for any emergency that may arise, whether it be broken pipes, leaky or frozen pipes, sink overflow, toilet overflow, refrigerator, washing machine, water heater malfunction, dishwasher malfunction, or basement water extraction. Our water restoration technicians are highly trained and certified in the latest home restoration and remediation techniques and technology. After a disaster, the last thing you need is more stress. Our water damage restoration specialists arrives quickly, works fast and get the job done right.
Basement Water Damage Cleanup & Water Damage Services Cedar Rapids IA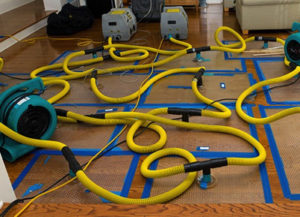 Flooded basements and crawlspaces can present more challenges than regular room spaces. Aside from making your Cedar Rapids basement unusable, a basement flood can ruin your personal belongings and create a serious health and safety hazard.
All basements are prone to flooding and there can be several causes behind the water in basement. This could be because of a busted or frozen pipe, a leaking waste line, a broken supply hose for your washing machine, or a leaking water tank or water heater.  By far the most common cause of basement flooding is due to excessive amounts of rain or melted snowfall, poor yard drainage and sewer backups are common culprits behind a leaky foundation.
We can get your basement water damage cleanup done quickly and professionally. Call us for Cedar Rapids water extraction near you before your basement gets worse.
Broken, Burst, & Frozen Pipes
Winter in Cedar Rapids can be the most devastating time of year for water damage. Water pipe bursts are common in areas of extreme winter cold and high winds that drive the wind chill well below freezing temperatures. You may not know if pipes are broken because the freezing water is keeping the liquid water from coming out. Once the ice thaws, you will be unexpectedly met with a flooded area if the water continues to flow without your knowledge. Pipes that lack proper insulation and are exposed to the winter's cold are far more likely to create a need for Cedar Rapids water damage restoration. Ignoring these repairs can be extremely costly as flood damage can lead to an unstable structure and damage to your valuables. Broken pipes and leaky pipes can be the cause of gallons of water to come flooding through your living rooms, bedrooms, kitchen, and bathroom. Should you need any help with a burst or frozen pipe or are dealing with Cedar Rapids water damage cleanup at all, give us a call today!
Water Damage Restoration Company Cedar Rapids IA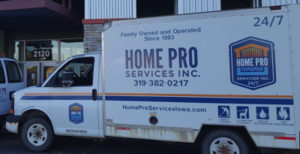 Home Pro Services will also handle your sewage backup cleanup in Cedar Rapids IA. A problem with your sewer system can cause significant problems. In addition to the overbearing stench created, an array of other problems such as fungi, viruses, and other pathogens can create serious health hazards. If sewage problems remain untreated, they can cause major structural damage which can be extraordinarily expensive to repair.
Cedar Rapids sewage damage can contain high amounts of harmful bacteria and there are serious health risks associated with it. It's critical that you do not try to clean up a mess from broken pipes that are connected to a sewage line. Coming in contact with raw sewage can cause disease, can destroy your valuables and cause severe damage to your property. Only trained professionals with the right equipment should handle sewage removal. Our team of professionally certified experts have years of experience resolving various sewage cleanup and repair problems. When you need Cedar Rapids sewage backup cleanup, Home Pro has you covered.
Contact Us Today For All Your Flood Damage Needs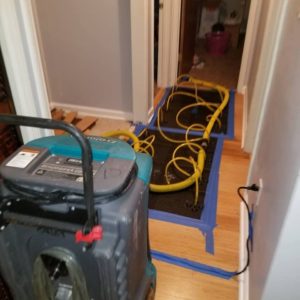 Our top priorities are safety, quality, and exceptional customer service for all of our Cedar Rapids water damage services. We are a Cedar Rapids emergency water damage company that provides water damage repair to victims. If you have flood damage of any kind, our professionally trained and certified experts can rapidly and effectively solve the problem on short notice. We not only fix the original problem, but we make sure that any affected area is professionally cleaned, deodorized and sanitized. Our courteous, professionally trained and certified water damage restoration experts are available to handle any crisis 24 hours a day. Regardless of the time of day, we are there to service your needs.
Providing Water cleanup services throughout Cedar Rapids IA, including 52227, 52228, 52233, 52302, 52324, 52328, 52338, 52401, 52402, 52403, 52404, 52405, 52411.
Some points of interest we service near include the Cedar Rapids Museum of Art, the Cedar Rapids Ice Arena, and the Indian Creek Nature Center.
---