Anamosa Water Damage Restoration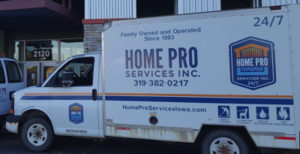 Home Pro Services, with over 35 years of experience, is a water damage restoration company that specializes in storm damage and water cleanup services. We offer a wide range of services including water removal, extraction, restoration and repairs, and can handle any emergency such as broken pipes, leaks, frozen pipes, sink and toilet overflow, appliance malfunctions, and basement water extraction. Our technicians are highly trained and certified in the latest home restoration and remediation techniques, and our team will arrive quickly, work efficiently, and ensure the job is done right to alleviate additional stress during a disaster.
Anamosa Basement Water Damage Cleanup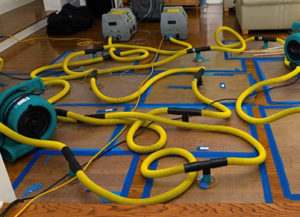 Flooded basements and crawlspaces can present more challenges than regular room spaces. Aside from making your basement unusable, a basement flood can ruin your personal belongings and create a serious health and safety hazard.
All basements are prone to flooding and there can be several causes behind the water in basement. This could be because of a busted or frozen pipe, a leaking waste line, a broken supply hose for your washing machine, or a leaking water tank or water heater.  By far the most common cause of basement flooding is due to excessive amounts of rain or melted snow fall, poor yard drainage and sewer backups are common culprits behind a leaky foundation.
Serving the entire Anamosa area, we can get your basement water damage cleanup done quickly and professionally. Call us before your basement gets worse.
Broken, Burst, & Frozen Pipes
Winter can be a time of year when water damage is most likely to occur, particularly from bursting pipes due to extreme cold temperatures and high winds. Frozen pipes may not be immediately apparent, but once the ice thaws, it can result in unexpected flooding. Pipes that are not properly insulated and exposed to the cold are at a higher risk of needing restoration. Neglecting these repairs can lead to costly damage to the structure of your home and damage to your personal belongings. Leaky or broken pipes can cause significant flood damage in living areas, bedrooms, kitchens, and bathrooms. If you are dealing with a burst or frozen pipe or any type of flooding, please do not hesitate to contact us for assistance.
Hidden Water Damage and How to Prevent It
Homeowners cannot easily spot water damages straight away as they are not always evident. Unless our expert professionals of Anamosa takes a closer look and inspect the damages, you may not be able to notice the problem on your own. We can guide you and alert you about future problems that can arise from floods in the area.
Always check for any leaks in your pipe connections. Check for any water leaks under your sinks. Always make sure that the water connection to your bathrooms is in proper condition. Give due care to any caulking around your bath-tubs or toilets. Take immediate measures to solve such issues. Connections to your dishwashers and washing machines must be checked on a regular basis as most people with complications state that they had suffered such issues with such appliances. The most important precaution measure to be taken to prevent a leaking situation is to place the main valve of your home water connection at a place where you have the easiest accessibility. You can quickly shut down the water inflow into your home at the time of a water leak and thus minimize the impact of the damage.
Certain rooms are more susceptible to water damage than others. Visit the basement and attic regularly. Even if these rooms are not regularly in use, they are common locations for undetected water seepage or leaking.
Home Pro Water Damage Restoration Process
Assess the Damage
We'll first check your home's structural integrity, making sure it is safe for habitation and repair.
Mitigate the Cause of the Damage
Whether its flood water, a sewer back up or faulty electrical wiring, the first order of business will be to correct the problem so no additional damage is done.
Determine the Scope of the Damage
We'll conduct a thorough inspection to determine the scope of the damage and what it will require to restore your home.
Free Estimate
We'll provide you with a complete breakdown of the work to be done and a free estimate and timeline to complete the work.
Complete Restoration Work
Our primary goal will be to repair the damage properly and get you back to your normal life as soon as possible.
Because we care about our friends and neighbors, we will be happy to work with you whether you have insurance or not. When you call Home Pro, you won't have to worry about taking out second mortgage or going without to get what you need. If you don't have insurance, we can adjust our rates to make sure you have a clean, safe home to return to without an inflated price tag. Don't let lack of insurance stop you from calling.
Water Damage Restoration Company Anamosa IA
Home Pro Services also specializes in sewage backup cleanup. A malfunction in your sewer system can cause numerous issues, including unpleasant odors, and health hazards like fungi, viruses, and pathogens. If left untreated, sewage problems can lead to costly structural damage.
Sewage damage poses a significant health risk and should be handled by trained professionals with the appropriate equipment. Attempting to clean up sewage on your own can lead to contamination, destruction of personal belongings, and severe damage to your property. Our certified experts have years of experience in sewage cleanup and repair and are equipped to handle any sewage damage emergency. Trust Home Pro Services for professional and efficient sewage damage cleanup.
Why Choose Home Pro Services?
24/7 Emergency Service
Convenient Appointments
Experienced, I.I.C.R.C. Professionals
We Work With All Insurance Companies
Upfront Pricing with No Hidden Charges or Surprises
Complete Customer Satisfaction Guarantee
Contact Us Today For All Your Flood Damage Needs
Our top priorities are safety, quality, and exceptional customer service. We are an emergency water damage company that provides water damage repair to victims throughout Anamosa. If you have flood damage of any kind, our professionally trained and certified experts can rapidly and effectively solve the problem on short notice. We not only fix the original problem, but we make sure that any affected area is professionally cleaned, deodorized and sanitized. Our courteous, professionally trained and certified water restoration experts are available to handle any crisis 24 hours a day. Regardless of the time of day, we are there to service your needs.
More About Anamosa IA
The romantic origin of the naming of the town of Anamosa comes from its early history. A Native American family was passing through town in 1842. The family stayed at the Ford House. The little girl, a Native American Princess, named Anamosa, endeared herself to the townspeople and following the family's departure from town, local citizens decided to name their town after her.
Today,Anamosa is home to places such as the National Motorcycle Museum.
Providing Water damage services throughout Anamosa IA, including 52205.